Beckley WV
A Brief History:
Although founded in 1838, Beckley existed only on paper at that time, "Alfred Beckley said he "was frequently jeered and laughed at for his Paper Town…" Early in its history, the town was known as Beckleyville and Raleigh Court House. In 1850, "The act of creating the county (Raleigh) made the town of Beckleyville the county seat."  The city is sometimes called the "Smokeless Coal Capital", "The City of Champions" and the "Gateway To Southern West Virginia." Beckley had the first "community antenna" television system in the United States, a forerunner of cable television.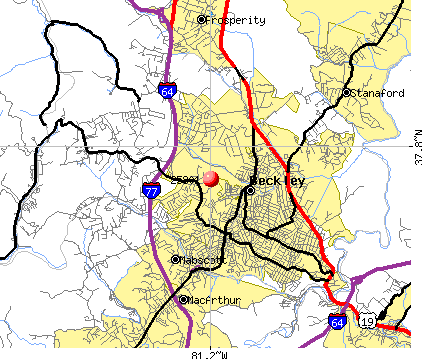 Geographical and Climate Information:
According to the United States Census Bureau, the city has a total area of 9.50 square miles, of which, 9.49 square miles is land and 0.01 square miles is water. Due to its elevation, the climate of Beckley is either classified as mountain temperate or humid continental.   Summers are warm and humid, usually a few degrees cooler than lower-elevation places within the state and winters are generally cold and snowy with occasional intervening warm periods. Snowfall varies with an yearly average of (approxmimately) 61.4 inches per season and mostly occurs from December to March with an occasional snowfall in November of 2–3 inches.
Attractions:
Beckley is well known for two major tourist attractions: The Beckley Exhibition Coal Mine and Tamarack. The Exhibition Coal Mine is a preserved coal mine that offers daily tours and a history lesson on coal mining in Appalachia. Tamarack, originally built at a cost of $10 million and dedicated to former Governor Gaston Caperton. But we can't neglect the lofty plateaus of forest and farmland for which our area is known. Even in the heart of the largest city in southern WV, you'll find woodland and park around every corner. We invite you to explore our communities — online or by touring the area.
Points of Interest: